"ALBERTI"
In a small street, besides Kurfürstendamm, the huge store of the "ALBERTI GmbH" company found its ideal place: Just in between famous "Gedächtniskirche" (the ruin of the church still is a landmark) and the "FRASQUITA" Ballroom, around the corner of "CARLTON" and "FEMINA" Dancing Clubs, a few blocks away from legendary "DELPHI" Palais, a few houses further from still existing "CIRO" Night Club.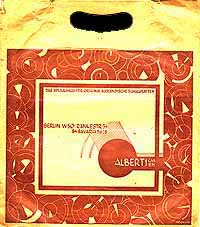 The music store was situated on the second floor of the old emperor's styles building of 34, Rankestraße. After a short time of working in the 20s, the shop became famous for its huge repertory. When the "ALROBI" - Edition joined "ALBERTI", the shop became a well accepted meeting point for musicians, artists and clients.
Besides this, had a big reputation of being one of the leading importation stores of foreign editions of records and musical notes. In cooperation with th record label "ELECTROLA", "ALBERTI" sold licensed pressings and founded its own label called "SPECIAL RECORD".
More about "SPECIAL RECORD" after clicking on the "ALBERTI" - bag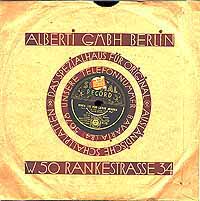 The old building at 34, Rankestraße burned out completely one day after being shut down by "GESTAPO". In November 1943, they found out that the "ALBERTI" store continued selling music "from ennemy's countries".

Today, at its place you see a very faceless, normal modern office building with insurances and a bank inside.

The Alberti - Slogan:

"AT ANY SEASONTIME - AT ANY DAYTIME - RECORDS BY ALBERTI BERLIN"
BACK TO THE BEGINNING: "WHERE TO BUY RECORDS"