IMPERIAL SWING - SERIES, GERMANY 1936 - 1939 IN ITS APPEARANCE:

The complete "IMPERIAL SWING - SERIE" appeared in England as "VOCALION - SWING SERIES". Only the line of numbers was different, although the appearance date was the same. Belgium "IMPERIAL" - with its 35.000s - numbers for a big part is identic to the German edition. It only was continued with recordings of Belgian Bands like GUS DELLOF.

As for copyright reasons, the German series had to be stopped in April 1937, during years, British "VOCALION" series was continued by "DECCA".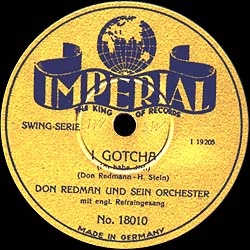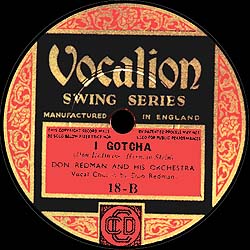 DON REDMAN on an "IMPERIAL" - label showing "SWING - SERIE" - in small letters. Besides the same master as a "VOCALION SWING SERIES".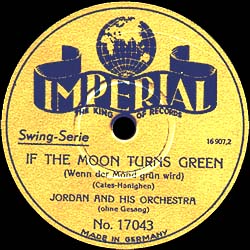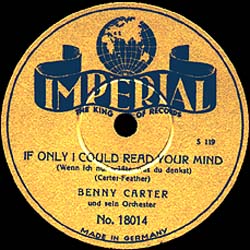 A regular 17000s pressing (Originally: TAFT JORDAN and the Mob, NEW YORK, 02 / 22 / 1935), taken over into the "SWING - SERIE" in big letters. Besides, an 18000s BENNY CARTER - pressing (recorded in LONDON, JUNE 1936), WITHOUT any additional mark "SWING - SERIES".
TO THE DISCOGRAPHIES BY CLICKING ON THE PICTURES.
---
BACK TO THE ARTICLE "IMPERIAL SWING - SERIES"