COLUMBIA SUPER SWING MUSIC
OLYMPIC - SUMMER 1936 - FEBRUARY 1937

A rare and extremly short living series...

Just like for the big sister "ELECTROLA", the record numbers are counted inside the regular DW - editions.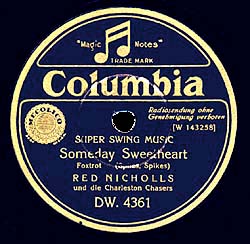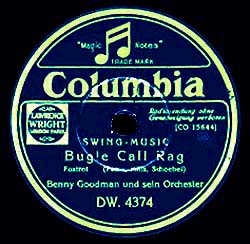 On the normal "COLUMBIA" label, for this small series of seven records, the extra mark "SWING MUSIC"; or "SUPER SWING MUSIC" was added. The printing and the types are identic with "ELECTROLA SWING MUSIC".

Same as "ELECTROLA", the "COLUMBIA" records were on sale only in this very first and single edition. After February 1937, the series was not continued. The edition is even NOT listed in the main catalog of the year 1936 / 1937 ("ELECTROLA VON A - Z : TANZMUSIKPLATTEN"). Sometimes, the records are listed in a special Swing Music frame in old monthly catalogs, but even the magazine "ELECTROLA SKIZZEN" only shows them in the Dance Music section.
Thanks to the research of MARKO PAYSAN, here is shown a listing of the "SWING MUSIC" records and their neighbors by "COLUMBIA", mostly British Dance Orchestras: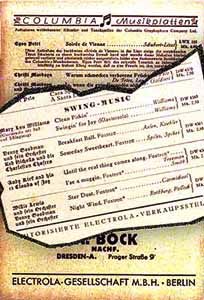 D.W. 4361 BENNY GOODMAN



D.W. 4362 HENRY HALL : Goody Goody / C. GIBBONS : Sweet Dreams, Sweetheart



D.W. 4363 ANDY KIRK



D.W. 4364 Carl Freed´s Harmonika - Swing - Orch. : Riding The Reeds / Spring Tonic



D.W. 4365 HENRY HALL : I Lost My Heart In Heidelberg /
SAVOY ORPHEANS : Auf Wiedersehen, My Dear



D.W. 4366 HILDEGARDE & ihre "Swingers" : Swing, Mister Charlie /
Heinz (Sandauer) und seine "Melody Boys" : You Are My Lucky Star



D.W. 4367 WILLIE LEWIS / BENNY GOODMAN



D.W. 4368 MARY LOU WILLIAMS


...


D.W. 4373 CARROLL GIBBONS : Robins And Roses / I Don´t Want To Make Histories



D.W. 4374 BENNY GOODMAN



D.W. 4375 JOE VENUTI



D.W. 4376 HARRY ROBINS : Tanzende Puppen (Dancing Dolls), Potpourri


...


D.W. 4402 HENRY HALL : I Breathe On Windows / Mine's a hopeless case



D.W. 4403 WILLIE LEWIS (NE: Februar 1937)



D.W. 4404 SCOTT - WOOD : Harlem / Organ Grinder's Swing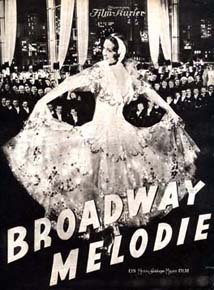 In accordance to the big success of the movie "BROADWAY MELODY OF 1936 " with ELEANOR POWELL, FRANCES LANGFORD, ROBERT TAYLOR and UNA MERKEL in the main parts, and tunes like "You Are My Lucky Star" ("Du sollst mein Glückstern sein"), "Broadway Rhythm" ("Broadway Rhythmus"), "On A Sunday Afternoon" ("An einem schönen Sonntag"), "I´ve Got A Feelin You´re Foolin´" ("Ich werde nie das Gefühl los"), the "COLUMBIA SUPER SWING MUSIC" seems to be reserved to US - american interpreters.

In APRIL 1936, for the first time the name "SWING MUSIC" is mentioned in some "ELECTROLA / COLUMBIA" catalog. For the last time, four of the "COLUMBIA" records are listed in DECEMBER 1936. (catalog above, Archiv : MARKO PAYSAN, HANNOVER).

The very last record by WILLIE LEWIS, D.W. 4403 recorded in Paris, 1936, for "PATHÉ", is listed without any comment in the magazine "ELECTROLA SKIZZEN" of Februar 1937: "BENNY CARTER mit W. LEWIS und seinem Orchester".

DETAILED DISCOGRAPHIES BY CLICKING ON THE "COLUMBIA" LABELS.