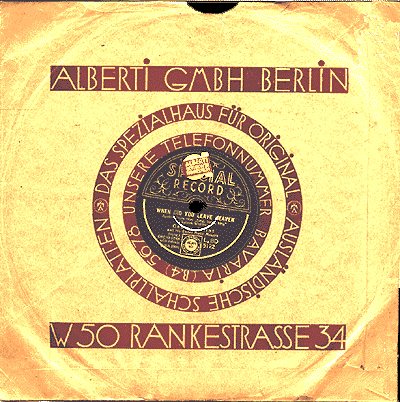 "ALBERTI"

"AT ANY SEASONTIME - AT ANY DAYTIME -
RECORDS BY ALBERTI BERLIN"
Inside the "ALBERTI" record sleeve: One of the "Black Label" records with "SPECIAL - RECORD" - label, besides: imported BENNY GOODMAN - pressed by British "HMV&quot:, the dog Nipper-logo hidden under the half of an "ELECTROLA" - label. The yellow price label says: "Importation record - selling Price 3.50 Mk.".

L* before the original catalog - numbers of "COLUMBIA" and &quotHMV" / "VICTOR" (on "SPECIAL - RECORD") signs licensed pressings.